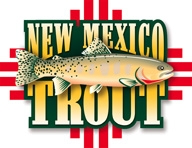 New Mexico Trout is dedicated to the preservation and enhancement of trout fishing in New Mexico's waters through restoration of riparian habitats and through the education of the public about trout fishing and the value of trout habitats. Whether you are new to fly fishing or have years of experience, you can benefit from membership. We welcome you to get acquainted with us through our website and by joining us at our next monthly meeting.
New Mexico Trout is a 501(c)(3) non-profit organization, and we welcome all tax-deductible contributions.
---
Recent news
General meetings resume - October 13
Posted on 08-31-2015
Join us for our first meeting after summer, October 13, 7:00 in the Commons Room at Sandia Prep.
read more...
---
Valles Caldera History and Changes Ahead
Posted on 08-31-2015
by Jerry Burton From the July/August 2015 Newsletter On October 1st, one of my favorite trout fishing places will change management. The Valles Caldera National Preserve will cease to be managed by a board of trustees, and will be managed by the National Park Service. I'm not sure what the cha...
read more...
---
Animas River Contaminated by Mine Waste 
Posted on 08-31-2015
From the July/August 2015 newsletter DURANGO, CO - AUGUST 7: Kalyn Green, resident of Durango, stands on the edge of the river August 6, 2015 along Animas River. "I come down to the river every morning before work." said Green. "Th...
read more...
---
Rio Cebolla Workshop and BBQ - May 30, 2015
Posted on 05-15-2015
WHAT:  Our annual member BBQ will be held on Saturday, May 30 in conjunction with a stream restoration clinic led by Bill Zeedyk, an expert in wetland and stream habitats. Areas on the Rio Cebolla in the Santa Fe National Forest that we had targeted for restoration work have been closed to publ...
read more...
---
Kids' Fishing Day at Tingley Beach
Posted on 05-14-2015
Saturday, June 6 is Free Fishing Day at Tingley Beach. We are looking for volunteers to work with kids - to teach them how to cast, to teach them how to tie flies. If you are interested, please contact Jerry Burton. The event is from 9am to noon.
read more...