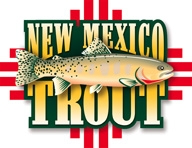 New Mexico Trout is dedicated to the preservation and enhancement of trout fishing in New Mexico's waters through restoration of riparian habitats and through the education of the public about trout fishing and the value of trout habitats. Whether you are new to fly fishing or have years of experience, you can benefit from membership. We welcome you to get acquainted with us through our website and by joining us at our next monthly meeting.
New Mexico Trout is a 501(c)(3) non-profit organization, and we welcome all tax-deductible contributions.
---
Conclave tickets now on sale!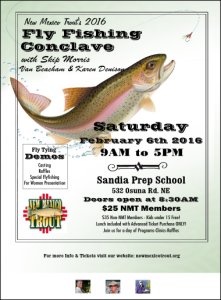 Tickets are now on sale for the Annual Conclave.
Date: Saturday, February 6, 2016
Time: 8:30 am – 5:00 pm
Location: Sandia Prep School
Tickets: $25 member, $35 nonmember, kids free
Featured speakers: Skip Morris,Van Beacham and Karen Denison
Activities: demonstrations, presentations, raffle, casting instruction
Lunch included with all tickets purchased before February 3
Tickets can be purchases online, at Los Pinos or Charlie's, at the January meeting or at the door
For more details, head on over to the conclave page or go directly to online tickets sales.
---
Recent news
Santa Fe National Forest plan to address the meadow jumping mouse
Posted on 02-05-2016
In January 2016, the Santa Fe National Forest issued Environmental Analysis for the New Mexico Jumping Mouse Critical Habitat Protection Project. The closure addresses the endangered specie...
read more...
---
Membership Renewal
Posted on 01-15-2016
Michael Maes Membership Chair from the January 2016 newsletter NM Trout's annual membership is based on the calendar year, January 1st thru December 31st.   It's time to take a few minutes and fill out your annual renewal.  There are three ways you can complete this: on-line, by mail or in perso...
read more...
---
Save the date! Conclave on February 6
Posted on 01-05-2016
We're still working out the details, so check back on the conclave page a little later.
read more...
---
January meeting!
Posted on 01-05-2016
January Meeting Reminder Tuesday January 12th, Sandia Prep We will be meeting in the Choir Practice Room in the Performing Arts Center instead of the commons. The new meeting time is  7:00, if you have been for a while. Chuck Domenici will give a dual presentation on the San Juan River an...
read more...
---
New Mexico Trout's response to the state fisheries plan
Posted on 10-20-2015
In a previous message we alerted NM Trout members that the NM Department of Game and Fish is seeking public comment on the draft of a new fisheries management plan that will help guide the department's efforts into the future. The Board of Directors has approved the letter below as the official r...
read more...