The 2018 New Mexico Trout Conclave will be held on Saturday, March 24 from 8:30 AM until 5:00 PM at Sandia Preparatory School in Albuquerque, New Mexico. The featured speakers are Dave & Emily Whitlock, and our own Bob Widgren.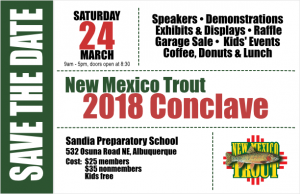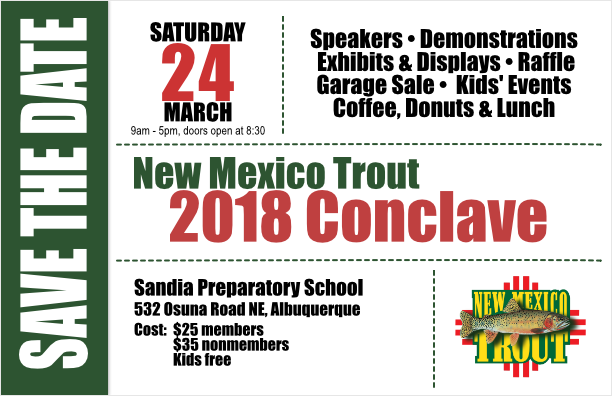 Each will give a series of talks throughout the day. The Conclave will also include clinics on beginning and advanced fly-casting (weather permitting), and fly tying demonstrations. The Conclave will feature the always-popular raffle of donated gear and guided fly fishing trips.
This year the Conclave will include an "Identify the Stream" contest to test and reward attendees' ability to recognize New Mexico fishing waters.  Photos of approximately ten streams, identified only by a number, will be posted around the Sandia Prep Commons area during the Conclave.
Each photo will be of a stream in New Mexico on public land or on land accessible to the public without charge. The stream will be known to harbor fish targeted by fly anglers. The photos will include enough of the surroundings to give contestants a reasonable, but not necessarily easy, chance to identify the stream segment.
Entry sheets will be provided that ask contestants to list the stream and the particular reach for each photo. Points will be awarded for correctly naming the stream and the particular segment pictured. One entry per person. No entry fee. Prizes will be awarded to the top three entries.
Admission to the Conclave is $25 for members and $35 for non-members, which includes lunch for tickets purchased by March 16, 2018. Admission for kids age 16 and younger is free, but they must register by March 16 to get lunch. The raffle will include some kids-only items, but they must be present to participate in the raffle.
Ron Loehman and Lance Leach,
2018 Conclave co-chairmen
---
---