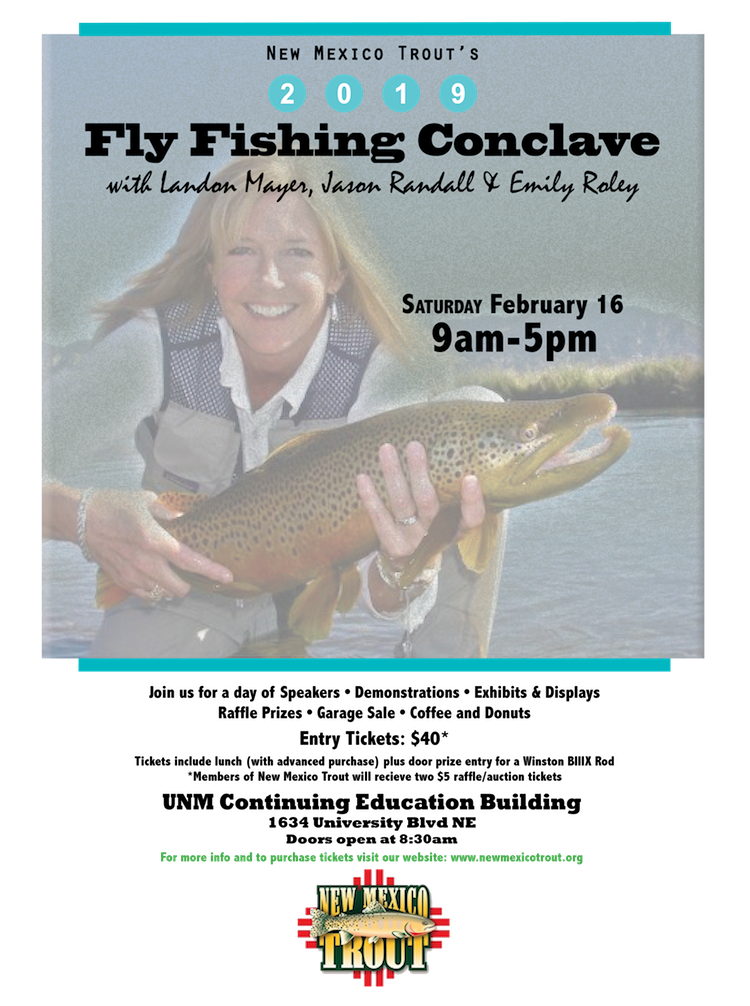 New Mexico Trout will hold its 35th Annual Conclave and fundraising event on Saturday, February 16th from 9:00 AM until 5:00 PM at the UNM Continuing Education Bldg, 1634 University Blvd NE, Albuquerque NM.
This year the presenters are Landon Mayer, Jason Randall DVM and Emily Roley. They are all accomplished fly-fishing instructors, guides, photographers, columnists, and conservationists. Each will give a series of informational and educational talks throughout the day. Ms. Roley's presentation will focus on topics of particular interest to women.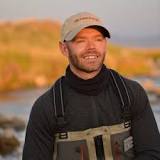 Landon Mayer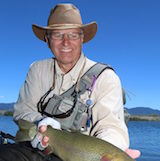 Jason Randall credits much of his passion for fishing to his father. "Some of my earliest and happiest memories involve fishing," he recalls. "I remember many trips to Canada or Minnesota for pike and small mouth." As a young man, he learned fly fishing from other mentors.
The blessings we receive are meant to be passed on to others, so to share his passion and knowledge, in 2002, Jason began a career as an outdoor writerwith feature articles appearing regularly in American Angler, as well as Fly Fisherman, Eastern Fly Fishing, Northwest Fly Fishing and many other outdoor magazines. His first book, 'Moving Water: A Fly Fisher's Guide to Currents'was released in 2012 by Stackpole/Headwater books.  It studies the effect of current on trout, their prey species and our angling presentation. His second book 'Feeding Time: A Fly Fisher's Guide to What, Where and When Trout Eat',was released in August of 2013.  It focuses on matching your fishing strategies to the trout's feeding strategies, especially when targeting large trout. In 2014, the third book in the 'Fly Fisher's Guide' trilogy was released- 'Trout Sense; A Fly Fisher's Guide to What Trout See, Hear and Smell', which offers anglers an opportunity to know more about the quarry they seek. In April 2017, Jason's forth book was released from Stackpole/ Headwaters Books. Titled 'Nymph Masters; Fly Fishing Secrets from Expert Anglers', this book explores the depths of nymph fishing and advanced nymph fishing techniques.
In 2017, Jason joined Luminaries Lefty Kreh, Bob Clouser, Ed Jaworowski and many others on the TFO National Advisory Team. Jason appears and presents at shows, clubs and events throughout the North America.
Jason's presentations are  'What Trout See' and 'Advanced Nymph Fishing'.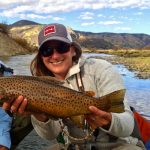 Emily Roley hails from Tennessee where she learned to fly fish as a teenager and spent her youth hiking and fishing her way through the Appalachian Mountains and the numerous tail-waters of the Southeast. After fostering her love for the sport for two decades she began to dream about taking her passion to the next level and pursue fly fishing as a full time career. In 2014 she set out to make this dream a reality and in gravitating west found a perfect home with the Taos Fly Shop.
In the intervening 4 years she has made a name for herself in the business gathering a steady stream of new and returning clients, guiding all the major rivers in the area including the Rio Grande, Conejos, Costilla, Cimarron and Red River. In addition, in 2016 she founded the Taos Women's Fly Fishing Club and has hosted multiple trips for her members in New Mexico, Colorado and Argentina.
She continues to push herself both as a guide and as an angler seeking out opportunities where she can expand her knowledge and dive ever deeper into this life-long passion.
The Conclave will include clinics on beginning and advanced fly-casting (weather permitting), fishing knots, fly tying demonstrations, and split bamboo fly rod building. The Conclave will feature a door prize of a Winston BIIIx rod and the always-popular raffle, which provides a chance to win a fabulous prize for the cost of a single ticket!
This year's donations from our sponsors and vendors include fly rods, reels, waders, guided fishing trips, art work, antique fishing equipment, distillery tour with gifts, spa with brunch, jewelry, and more. The "garage sale" will continue at this year's Conclave. Please contact us (newmexicotrout@gmail.com) if you wish to make a donation to the raffle.
Admission to the Conclave is $40 for members and  non-members (members will receive $10 in raffle tickets). Lunch is included for tickets purchased before February 14. Admission for kids age 13 and younger is free. The raffle will include some kids-only items (must be present to win). Please register your kids on the website so we can make sure we have enough lunches.
Tickets are available at online and at Los Pinos Fly Shop.
Note: The Conclave is using Instagram for social media advertising.
Use @newmexicotrout; using #newmexicotrout will show you every Trout caught and photoed in NM