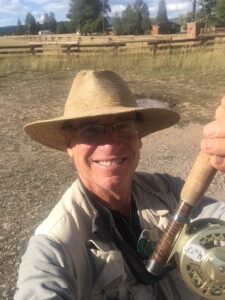 Hello my name is Joe Raymond, and I have recently moved to New Mexico from overseas.
My family and I worked for the US State Department and traveled abroad to many places including Taiwan and New Zealand. I have been flyfishing since the 80s where I picked it up in Massachusetts while serving in the U. S. Navy. Our family has decided to settle in New Mexico. I currently work as a facility manager on Kirkland AFB.
I am excited to be a member of this great club and I look forward to participating in river conservation projects, fishing trips, as well as fly tying classes. I would like to make myself available as a fly fishing trip coordinator (if there is such  a thing) for the New Mexico Trout organization. My goal is to connect members, organize trips and assist in getting interested parties together and on the water in a safe and fun manner. "Wacking Fatties" or landing big browns is of course our main objective while ensuring we protect our natural environment and pass along something better than we found it.
The main reasons I love flyfishing is because there is always something new to learn, always someone new to meet,  and always some exciting adventure to be had. I look forward to meeting each of you in person as soon as this pandemic is over in the meantime feel free to reach out to me anytime if you want to discuss a fishing outing.